Serena and Venus $50 mil…but not half of what they should… O'mama… Michelle…war…
April 10, 2009 bsmith101
Tags: Advertising business, America, atomic bomb, Barack Obama, Black families, Bush, Dealing with loss, Easter, Essence Magazine, Family Values, First Lady Obama, France's President Sarkozy, freeing the world of nuclear weapons, G-20 Summit, George W. Bush, Harry Truman, Hiroshima & Nagaski, Iraq, Iraqi War, Marian Robinson, Michelle Obama, New York City, nuclear weapons, Obama, our troops, Pearl Harbor, President of the United States, Serena Williams, Shriners' Hospitals, Somali boat privates, Somali pirates, Sony Erricsson tennis tornament, Tennis, the Bible, the President in Europe, the White House, U.S. Service men & women, Venue and Serena's endorsements, Venus Williams, youtube

While the Obamas have been taking Europe by storm
the Williams sisters, Venus and Serena have been hard at it on the courts.
Just finished reading that between them Venus and Sererna have amassed
over $50 million in tournament earnings.  Wow…that really should
motivate some people to get up and go out and learn how to play tennis…big time.   However, as strong as they may be on the court the endorsement dollars still have not totally represented who they are and their standing in the tennis world.
Considering the fact that there are other players who have yet to see the
type of wins and tournament money that Venus or Serena have managed to win…yet they have not been able to match their court success with bigger endorsement dollars…unlike some of their white counterparts.
For
example Maria Sharapova reportedly has earned about $30 million in endorsements while having won only a mere $10+ million in tennis tournament money.
It seems to me that something is terribly wrong with that picture.  Considering the fact that Serena Williams most recently became the highest grossing female athlete of all times.  Based upon this fact alone the ad agencies and major companies should be running to her to sell or aid in branding their companies and/or products.   But this is far from the case.
Perhaps, Venus and Serena aren't complaining about it.  Maybe through the years they have come to grips with the way the world is…and how it operates.  But it is a shame that with all their skills and finesse upon the tennis courts…the mega ad deals and corporate sponsorships have not come their way.  Clearly they have earned the right to reap the full benefits of their labor…not just the tournament wins…but lots more
of that other money too.
In her joyous victory over Serena in the Women's Final, Saturday, Victoria Azarenka of Belarus jumped for joy…she managed to do what many wish to do.  She beat Serena.  6-1, 6-1.
Wow…what a lost.
http://www.straitstimes.com/Breaking%2BNews/Sport/Story/STIStory_360463.html
http://seattletimes.nwsource.com/html/othersports/2008976683_digs03.html
http://news.yahoo.com/nphotos/slideshow/ss/events/sp/080601venuswilliams#photoViewer=/090405/photos_sp_afp/897dafeaca04350cb6fca4c6485d4922
This past weekend Serena and Venus had another finals show-down.  Playing
down in Florida in the Sony Erricsson tournament,   They played hard…and in the end Serena won over Venus, 6-4, 3-6, 6-3…in the Women's Semi-Finals.
It is amazing how they can compete against one another and not let it interfere with their love, appreciation and respect for
one another.   It is just amazing…truly in their own rights they are not only great sports women but also fantastic role models for how siblings should feel about and treat one another.
Oftentimes, when one isn't playing…the other is up in the
stands cheering on and rallying support for her sister…which ever one it may be whether she is awaiting her turn to play…or out of the tournament because she lost.  As well as, their mother, Oracene, and other family members…including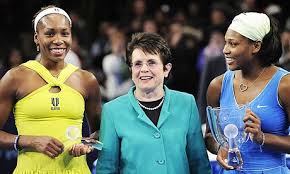 their father…who by this time has probably married his young girlfriend (that is in another blog along  with a picture or 2).  As he had planned their wedding for the end of March or sometime during the first of  April.
Of which…being that the young woman isn't much older than them…or somewhere near Venus' age…and for other obvious reasons the girls…Venus and Serena were not quite tickled pink at the announcement that their father was heading to the altar with the young woman whom he has been seeing for some time now.  And it seems that she loves to shop…which means…spending their money.
Mighty Michelle…that is the name that the folks abroad have dubbed
her.  She was indeed stunning…with beauty and brains to match it is hard to
beat First Lady Michelle Obama.  And with his hand in hers…and hers in his they looked liked 2 teenagers in love over in Europe.
It is marvelous to see a man and woman who obviously love each very much that every chance they get they find a way to
connect themselves with one another.
The Queen too was smitten by the Obama aura…something which seems to have swept the world.  France's President Nicolas Sarkozy loves him…and calls Obama friend.
Who would have thought that a man who many had debated whether he would
be able to answer the call if  a call came in the wee hours in
morn concerning some type of U.S. calamity.  They questioned his…what they called 'his lack of experience.' They questioned his ability to be able to handle foreign affairs…and how he would be able to handle himself around other world leaders.
Well, Obama put all those fears to rest this past week during
his first visit to Europe for the G-20 Summit.  For a guy who many scoffed at…and grinned over what they called 'his lack of credentials.' Told him that 'he was wet behind the ears.' I don't know…but maybe that community organizing stuff  that people laughed about paid off this past week…when Obama managed to mediate between a
riff that developed between France and China during the summit…when both men became angry at one another and were nearly about to fight.
Obama not only managed to calm them both down but also got them talking and they came to some type of an agreement.
You know what?
There are benefits to learning how to work with people in the community
that can really pay off when you come together with world leaders…and it is
called knowing how to break up a fight…how to negoiate…and things like that.  You can't learn that sitting in some office shoving papers all day and playing like politics is all there is.
Imagine…at his first time on the world stage as
President of the United States, President Obama brokered a peace agreement between 2 nations…that were well on their way to disrupting the entire G-20 Summit by having a fist fight.  That's pretty good.  Better than good…for a man who many questioned whether or not he was qualified.
http://www.businessweek.com/ap/financialnews/D97AHEDG1.htm
At the location where I am currently working to launch my website…there is this guy name Josh, who coincidently shares my birth date…he was telling me the most interesting story about his little niece, who happens to be the apple of  his eye.  He says that every time she sees Obama on the television she begins pointing at the television screen saying gleefully-
"O'mama…O'mama…"
She is only about 2 years old…and can't pronounce 'Obama.'
Well, that will clearly change as she grows up.  She will learn in history that one of them started the war and that other one put an end to it.  As I am sure that the history books will be filled with information on the controversy that the Iraqi War brought not only to this country but around the world.
After 8 days of trying to re-new the spirit and trust of foreign leaders in this country…Obama paid a surprise visit to Iraq.  There is something about going somewhere in order to get the full impact of the real situation.  I found that out for myself following my mother's passing.
I had relied upon others…my siblings…as we spoke on the phone or during my weekly visits home…which would always be on one of my days off from my job…but I depended upon others to be my source for what was happening at home…in the house with my father once my mother had passed.  I never would have believed that the sources of my information were anything but truthful.  It was not until I was forced to go home to stay amid my father being what literally amounted to kidnapped…by another sibling (who was more interested in his money than him)…that I found out the  truth…and nothing but the truth…as it started to be revealed to me slowly over time.
Had I never been forced to return home…I would still be living in oblivion and listening to lies about what was really going on at home.
Going and seeing for himself…was something that yes…President Obama had to do.  And judging by the pictures…the troops were happy to see him…greet him…and take pictures of him.  All of which was something I never saw in any of the media stuff when Bush went to Iraq.
The job that those young people and others have been forced to do was
huge and the outcome was never one that was going to be good.  For one thing though no one says it…it was an act of aggression on the part of the George Bush Administration to initiate a strike against a country that posed no possible immediate threat or otherwise to us.   Thus, there was and is no way that what started off as being bad in the first place could possibly be turned around…as nobody who lost their life…or a limb…or mental or physical state of being…or other problems or complications due to that war…there is never any way that they…or their families…or their  love ones will ever be the same.  Nor this country…but perhaps somebody thought this when we dropped that bomb on Hiroshima …and then on Nagasaki.
When President Harry Truman, in August of 1945, made the decision to bomb Hiroshima and Nagasaki following the bombing of Pearl Harbor.  Like Bush…Truman had committed political suicide by believing war and killing people is the real show of power.  Truman's fear of communism…the Red Threat…and whatever else that was running through his head at the time…including like Bush…he too had a plunging voter approval rating.
It is interesting how past Presidents used war like some type of commodity to use at will…as a means of vamping up their voter approval.  War to them has long been held as a means of engendering country loyalty and solidarity.   And they used war also as a means of creating  jobs…and all with little care for the lives these wars would exact in return.
The unleashing of the single most dangerous weapon known to all of mankind…the atomic bomb by Truman was the most atrocious thing that any country could do to any group of people.  And from that time to this…this country has sought to wide the memory of it from history.
To view just DOUBLE CLICK the LINK BELOW…ignore the text.
It is my hope that such weapons are totally removed from society…as the technology is entirely too dangerous…to even be used as an energy source.  And as it renders those countries which have it trying to monitor and prohibit others from obtaining it…which speaks to the fact that the world would be a far better place without nuclear weapons.
But I applaud President Obama for being strong willed about bringing to an end a war that never should have been started in the first place.
http://www.defenselink.mil/news/newsarticle.aspx?id=53820
http://www.miamiherald.com/news/world/story/989579.html
http://www.latimes.com/news/nationworld/world/la-fg-obama-iraq8-2009apr08,0,642881.story
http://news.yahoo.com/s/ap/20090409/ap_on_re_af/piracy
I really do not know how long the Somali pirates believe that they can continue to interfere with the waterways by pirating ships?
At some point somebody…some country will not take it.  And frankly, I do not believe that Obama is somebody to be played with.  I know that there might be those of you who have a different opinion of him…but I can tell that he is nice and easy-going as long as you do not cross him.  It was in the way he looked into the camera and kind of  smiled one morning…though you knew he really wasn't smiling…and then he said-
"Leave my wife and my children alone."
You do remember that…that is when the Republican party during the campaigning period decided to go after Michelle Obama.  Once Obama stared into that camera and said what he had to say…that campaign launched against  Michelle Obama came to an abrupt halt.  An immediate halt.  I couldn't blame them…you could tell that Obama meant business.  And that is why I say-
"Obama is not a man to be played with."
Yes, he can kid and joke with the best of them.  But for anybody who believes there is not another side to him…look out.  Everybody has another side…even me.   And as kind as I am (lol)…I have scared my share of  people…and
still do…when I have taken all that I was or am going to take.
It would be very foolish of the people of Somali to believe that the events that happened when that Black Hawk aircraft was shot down in their country years ago under Carter…will ever be allowed to be repeated again…with them dragging the bodies of Americans through their streets.
No…I don't think so.  America is not going to take that twice.
First Lady Obama, Michelle's mother, Marian Robinson, is gracing the pages of Essence magazine.  Didn't like the make-up job though…or maybe it was the photoshop touch-up…but she is still beautiful.  And Michelle
looks just as beautiful sitting beside her mother.
I have said it before…and I am going to say it again.
"What a family."
It is great to see the type of black families I have known all my life finally hit mainstream media in a continuous manner.
http://cosmos.bcst.yahoo.com/up/player/popup/?rn=3906861&cl=12897430&ch=4226714&src=news
http://news.yahoo.com/s/ap/20090409/ap_on_re_us/meltdown_shriners_hospitals
I think that the above story is sad.  The Shriners Hospitals are really just too valuable to allow them to close…even one of their facilities much less 5 of
them.  There must be someone who is capable of aiding them.  The number of children who need special medical care is growing…and the Shriners Hospitals because they are made to service children their medical facilities are happier and brighter places for children who have to be hospitalized due to a variety illnesses and accidents…burn victims etc…  And can provide them with long care treatment right in their hospitals.
I have a younger cousin who fell out of a 3 story window years ago.  She had to spend a very long time in the Shriners Hospital here.  The injury impacted her growth andshe had other medical problems which were brought about due to that
fall.  It caused her to have to stay there for quite a while.  That hospital provided for her a happy atmosphere with a great team of care providers who really know how to deal with every need of children from fear…to tears.
There have often been times when I wished I had money…so I could give it away.  This is one of those times.  I would give it to them.
I never knew that they offered their services for free.  Wow…all the more
reason to give.
If you would like to make a donation or contribution…you can do so via their website…  http://www.shrinershq.org/
Or by contacting:   Shriners International Headquarters
2900 Rocky Point Dr. Tampa, FL 33607
813.281.0300
Well, today is so beautiful…that I shouldn't even tell you about it.  But just keep it to myself…and not share it with anyone…as if I could bottle it up and store it somewhere.
Was in New York yesterday.  Bought some things for Easter.  I decided that  I wanted something new and springy.  So, I settled on something yellow and can't wait to get my hair done and put on my new earrings and new wears.
I am looking forward to Easter…not because I want to show off some new clothes…but because I am just so thankful that God loved us enough to endow us with a special gift…his son.  And that his son in turn loved us so much…that he laid down his life that we might live…might walk in liberty and free from the yokes and bondage of all the things we once allowed to hold us hostage.  And if you did not understand that…you should get yourself a Bible and begin to search it out for yourself.  It is something that I am still doing…and have no doubt that I will be doing for the rest of my life.  Continuing to read and search it out for myself.
Well, enjoy your Easter…remember Him and eat an
Easter egg for me.
And to all of those of you abroad serving this country with pride and dignity…I wish you well.  And with God's speed hopefully you will soon be home.
Well, it is just about Easter…
Thank you for reading this blog…and  my others.  Please be sure to continue to share this blog site with your family, co-workers and all your friends…
"pass it on…" www.bsmith101.wordpress.com ©2009
Entry Filed under: Barack Obama,Bush,Change,China,Cities,Dealing with loss,death,family disputes,Family Values,George Bush,Government,Hiroshima,holidays,Marian Robinson,Media,Michelle Obama,New York,Obama,Parenting,politics,Sports,tennis,the Bible,The Williams Sisters,Uncategorized,War,William sister's facts,Williams Sisters,youtube
Trackback this post | Subscribe to comments via RSS Feed